With the theme of Global Connection for a Brighter Future, the 2022 online promotion meeting for the construction of "two areas" in Haidian Beijing was successfully held on July 13, 2022 in Beijing, which was organized by the people's government of Haidian District of Beijing Municipality and organized by Haidian District Commerce Bureau of Beijing Municipality and Beijing Haidian International Chamber of Commerce with the assistance of ChinaEU. With a hybrid format, this conference attracts many Chinese and European entrepreneurs and scholars from different fields to discuss hot topics, such as the latest important development strategies of "two-zone" construction in Haidian district, essential industries for the promotion of international investment in 2022, as well as in-depth industrial cooperation between China and Europe in the field of high technology.
At the beginning of 2021, the Building plan of "Two Zones" in Haidian District was published by Haidian District, outlining vital development measures and district policies during the 14th Five-Year Plan period. The construction of "two areas" has brought major development opportunities to the district and will surely create a new growth pole for the district with its political advantage. This conference aims to help the District to deepen its construction of "Two Zones", to raise its regional innovation dimension, to build a new model of openness and development that facilitates active integration into the global network of innovation and attracts global innovation resources. Thus, Haidian District will become a new hub for global advanced technology and high-end international talent.
Lin Jianhua, member of the Standing Committee and Deputy Mayor of Beijing Haidian District, attends the conference and delivers a speech.
He said that through years of scientific innovation, Haidian District has become a central and powerful engine of Beijing's high-quality economic development, with continuous transformation and upgrading of industry, industries and business models. emerging, strengthened structures of high-tech industries and expanded consumption. market. He points out that during the six months and one year of building the "two areas", the district government has made bold attempts based on local conditions, international standards and global visions, achieving fruitful results. He hopes this conference can become a platform for Haidian District to share its achievements in building "two areas" with the world, showcase its high-quality business environment and first-class sourcing service. , and to strengthen its information exchange and cooperation. with the rest of the world, thus giving new impetus to the new stage of construction of "Two Zones".
Dr. Liu Chang, President of the Government Affairs Forum of the European Union Chamber of Commerce in China, delivers her speech on behalf of delegates from European companies and institutions at the conference.
She said that the European Union Chamber of Commerce in China, after more than 20 years of development, has become an important driving force for promoting economic and trade cooperation between China and Europe. Keeping abreast of the formulation and implementation of China's innovative development policies, the chamber has offered advice and suggestions and established high-quality cooperation platforms for Chinese and European enterprises for excellent services. She hopes this conference can help more European enterprises to gain a comprehensive understanding of the achievements and construction measures of the "two zones" in Haidian district and help the district attract more outstanding enterprises.
Luigi Gambardella, the chairman of this conference's international strategic partner, ChinaEU, expresses his perspective that all parties could make concerted efforts in the post-epidemic era to quickly establish a platform for institutional dialogue and cooperation between Haidian District and high-tech enterprises from China and Europe and to advance cooperation between European technology and business enterprises and the District in resources and industrial complementarities.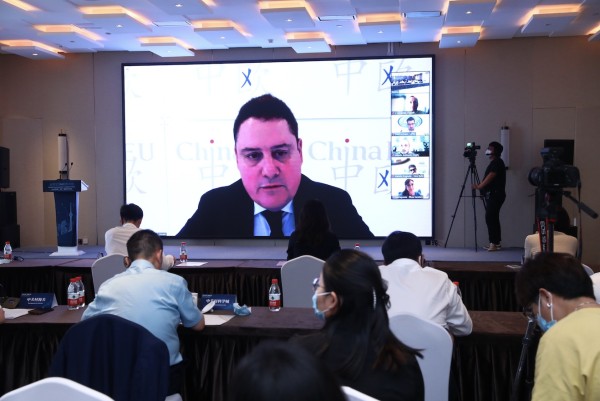 At the conference, Deputy Mayor Lin Jianhua gave a detailed introduction on the latest state of construction and business environment of the "two areas" of the district. SGS and Novozymes give their keynote speeches on their achievements and business development experience in Haidian district over the past years.
Wang Ying, Vice Chairman of ChinaEU and Executive Chairman of the Global New Economic Alliance, lifts the curtain on the conference's exchange session, with more than ten European high-tech companies and business institutions participating online. They have in-depth conversations on the strategic planning of the construction of the "two zones" of Haidian district, the digital economy of China and Europe, the cooperation of high-tech enterprises of both sides in technological R&D, business scenario building and policy implementation. on the operation of high-tech companies in the "two zones". Focusing on the Chinese and European digital economy, as well as entrepreneurship, development and cooperation of high-tech information enterprises, ChinaEU strives to foster cooperation between Chinese and European enterprises in the digital commerce, technological research and the commercialization of the achievements of scientific research. . Delegates from European enterprises and institutions share their profound thoughts on China-Europe economic and trade cooperation and industrial development, and communicate with district government officials on some enterprise development issues in the district.
Three European guest speakers, including Mark Hedley, Director of the Knowledge Economy/Tech Sector China-Britain Business Council, Denis Depoux, Co-Chair of the Roland Berger Global Management Board, and Bernardo Mendia, Secretary General of the Portugal-China Chamber of Commerce and Industry, will deliver their keynote speeches on the innovative development of the digital economy, the advantages of Haidian District's economic situation, industrial integration and innovation, and China-China exchanges. Europe in commerce and trade.
Via an online video, delegates from more than ten European companies and institutions, such as the Spanish Chamber of Commerce in China, Netcomm, APEC E-Commerce Business Alliance, Supercom and Advisorio, have in-depth exchanges on the development of the district of Haidian with officials from five functional departments of the district government, including business, finance and investment promotion.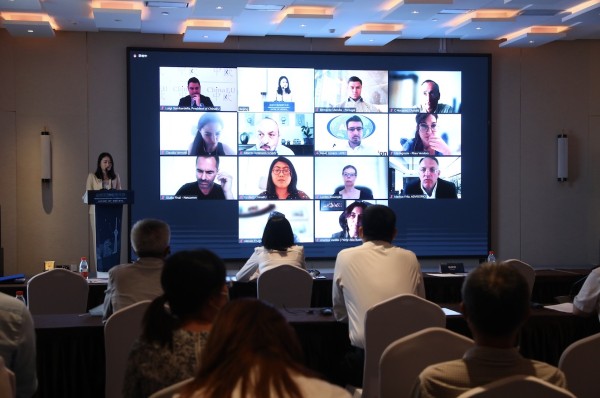 At the conference, the Beijing Haidian International Chamber of Commerce and ChinaEU sign the International Strategic Cooperation Memorandum. Through this jointly established international cooperation platform, the two sides will strive to deepen the cooperation of member enterprises in the fields of technology, capital, information and talent, and help enterprises to become more international and to do business in the Haidian district.
Focusing on Zhongguancun Science City and the Brilliant Achievements of "Two Zone" Construction
Lin Jianhua, member of the Standing Committee and deputy mayor of Beijing Haidian District, shares the achievements of the district's service industry since its new opening and the construction of the "two areas" over the past year. In addition, he told the guests more about the district's improved business environment and the innovative development of Zhongguancun Science City.
Based on the strategy of building a better new city through high-quality development driven by the new impetus caused by the integration of culture and scientific technology, Haidian District has focused on Zhongguancun Science City and promoted the development of international information industry and digital trade port, as well as the construction of "two zones" to pursue reform and opening up. According to Mr. Lin Jianhua's introduction, the district's gross regional domestic product in 2021 reached 950.17 billion RMB (148.929 billion USD), registering an annual growth of 8.8% and 0.3% higher than that of the city of Beijing. Its economy occupies 23.6% of that of Beijing City, ranking first among all districts in Beijing. Zhongguancun Science City has digital economy as its core industry, with the added value of this industry occupying more than 50% of Haidian District's regional gross domestic product. Apart from that, it is home to many digital economy companies, including six large $100 billion companies, like ByteDance, Xiaomi and Baidu, 180 listed companies and 50 unicorn companies which occupy about one-fifth of that. from China. Zhongguancun Science City is a leader in digital economy innovation domestically and globally.
According to statistics, the construction of the "Two Zones" saw its 84 major programs completed in 2021, such as the implementation of program support policies for returning talents from overseas studies (updated version ) and favorable tax policies on technology transfer income, as well as the establishment of the coordinated intellectual property protection system and the offshore innovation center. So far, 157 major programs have been signed collectively in 14 batches. 146 Fortune 500 companies have been chosen as cooperation partners, of which about 100 have been connected. Since the construction of the "two zones", Haidian county has 2,120 newly registered enterprises, including 2,039 domestic and 81 foreign-invested, in the designated scientific innovation zone of its free trade zone. Boasting more than 20,000 businesses, Haidian District has become a new hub for talent and a magnet for foreign investment.
Media Contact
Company Name: Beijing Haidian International Chamber of Commerce
E-mail: Send an email
Country: China
Website: https://mp.weixin.qq.com/s/fcF_Li1Rp0zlgDB_anbHSA